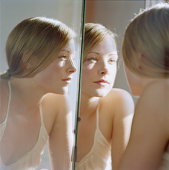 Learn, heal, and grow with the guidance of someone who has been through it all. I am a Certified Holistic Health Coach and Drugless Practitioner with an M.S.W. from Columbia University. Prior to becoming a healer myself, I suffered from an eating disorder for ten years. I discovered some secrets to healing that may surprise you. I will teach you how food affects your body, mind, and spirit.

We will discuss food intolerances and allergies that may be contributing to your disordered eating patterns. We will address your sensitivities from a holistic perspective, emotional, physical, and spiritual. I will help you to identify the source of your binge, purge, or starvation cycle and re-route. I will aid you in clearing negative emotion and guide you into the light.

You will begin to remember who you are, recognize your life purpose, and break free from the bondage of emotional eating. You will experience personal growth, self-love, spiritual expansion, and inspiration. You will feel more whole. You will heal. You will become comfortable with food again, enjoy eating, and no longer fear it. You will regain a sense of health and wellbeing and create positive change in your life, which has a domino effect, positively impacting the lives of those around you.